The first leg of the trip took us to the USA, Canada and Mexico, an incredible journey that involved planes, trains, cars and buses. Not to mention boats, ferries, subways and helicopters!
We flew into Washington DC on the 24th June, 2003 and over the next 10 weeks we travelled through New York, Niagara, Toronto, Chicago, Seattle, and down through California to Las Vegas, Los Angeles, and finally Cancun in Mexico, before returning home to Scotland on the 7th September.
We stayed in hotels and hostels at first, travelling mostly by train. However, once we reached Seattle we were able to collect the minibus we had bought online from Tom Harris before we left Scotland. Having the bus opened up more options. In particular, we were able to start camping, although the heat and humidity made this quite uncomfortable at times.
We met some wonderful people, saw some amazing sights and learned A LOT about how to make the inaccessible, accessible! Here is some information about the places we stayed, and how we got there.
Accommodation
Hotel Harrington, Washington DC
Good points: Fairly central. Does have at least one accessible room.
Bad points:
neither of the rooms were disabled accessible, although we had been assured by email that they were
impossible even to get into the toilet with the wheelchair, so we complained about this and they moved us into another room which was a lot better.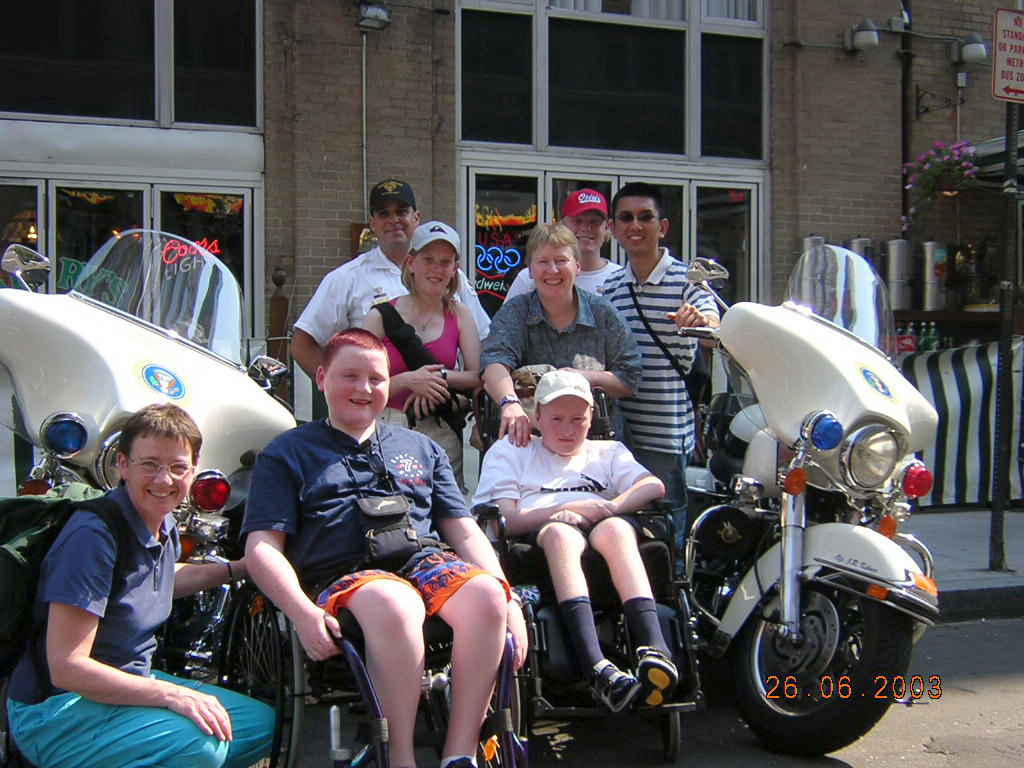 IYHA:New York International on Amsterdam Ave.
Good Points:
on regular bus route with accessible buses
couple of grocery and vegetable shops across the road
cafe, information desk, laundry facilities
internet access (though a bit pricey)
Bad Points:
'Accessible room' had inaccessible toilet; had to remove the door to get hoist in, no grab rails,
we had to dismantle bunk beds, air conditioning broken (eventually repaired)
Accessible toilet is in the men's toilets; not big enough to have a wheelchair or helper in so person has to be changed in the public space, has no cistern to offer back support and only one grab rail.
Kitchen is horrendous; cramped, no accessible surfaces, polystyrene plates and plastic cutlery.
Lyons House Hostel, Niagara , Canada
Good Points:
Owners very hospitable; breakfast included in price
Self-contained flat with sitting room and kitchen
access to laundry facilities
Bad points:
accommodation not wheelchair accessible
Novotel, Toronto
We stayed in the Novotel which had a swimming pool. In the Novotel the beds were too low to fit a hoist under. Luckily the person who was there when we complained about this was very ingenious and suggested putting bricks under the corners of the beds. Another problem in the disabled room was the toilet door opened in the way and the toilet was too near the door so it was really impossible to close the door and sit on the toilet at the same time. We managed by amputating our legs.
– Pach
IYHA Toronto
Good Points:
Central position within short walk of train station
Lots of tourist information
Bad Points:
Room was grim and toilet was horrible with really fairly disgusting bath
No accessible rooms
IYHA Chicago
Good Points:
A great building right beside the EL (elevated railway line)
A good kitchen
Good cafe and laundry facilities
Internet access (on very high podia)
Bad Points
we had to dismantle bunks
Accessible toilet a good size but only one grab rail and no cistern. Step up into shower rendered it inaccessible
IYHA Seattle
Good Points:
Bunk beds already dismantled for our arrival
Roll-in shower (unfortunately in the communal toilets)
Great kitchen and dining room, laundry facilities and internet
Bad Points:
Is on a very steep hill
Accessible toilet not big enough, only one grab rail, no cistern and in the communal toilets
Good points:
Great tepees with regular 2feet 6 inch beds ( other accommodation available)
Reasonable small kitchen with pancake griddle and free pancake mix, outside barbecue
good sized accessible toilet and roll-in shower
Bad Points:
Some rough surfaces to drive over on the wheelchair and a bit of a long way to go to dress after a shower
Camping
Once we collected the minibus, we were able to start camping, and we worked our way down through California staying at a variety of campsites.
The first place we camped was on the way to Spokane – a place called Levenworth. Unfortunately we had to put up the immense tent in the dark which was a bit more of a challenge than we expected!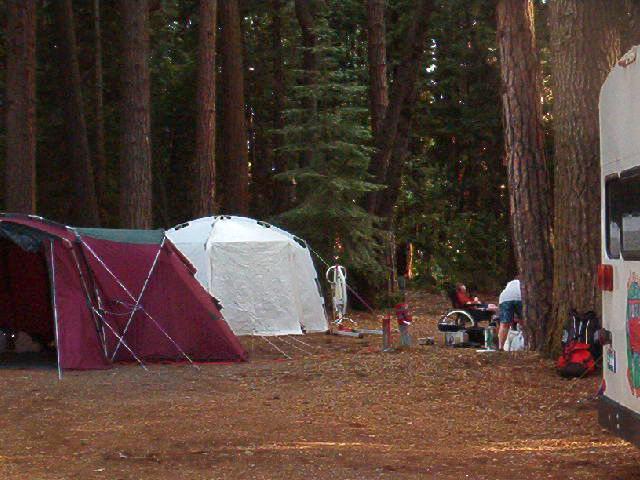 Grim Hostel in Market Street, San Francisco
It was SO bad we can't remember the name of it….
Transport
Travelling to Washington DC from Glasgow via Birmingham and Paris was a long and sometimes uncomfortable trip. Air travel is definitely not the best way to travel for wheelchair users, as it involves lots of being lifted in and out of wheelchairs, being heaved up and down stairs and along narrow aisles. We found throughout the whole tour that airline staff were not always trained in how to lift people out of wheelchairs and this could make for uncomfortable and even painful experiences!
We had agreed to spend a bit of extra money to book some business class seats from Paris to Washington, and that was well worthwhile. It made the journey a bit more bearable for the boys as it allowed a bit more room.
There was a very good bus service from the airport into Washington DC which took us to Rosslyn Metro Station. From there we were able to get the Metro to Metro Central Station which was close to our hotel.
From Washington we took the Amtrak to New York. We had to book in an hour earlier than everyone else. We saw only one disabled accessible car in which two wheelchair users could sit. The toilet was big enough but there was no room for the wheelchair beside the toilet.
Buses in New York were very accessible. We found one wheelchair accessible taxi in New York, Carebus, after asking a group with local knowledge.
We took the Amtrak again from New York to Niagara; it was a long trip (10 hours) in the same kind of car as before. The dining car had disabled spaces but wheelchairs couldn't go down the aisle to get there. When we arrived at Niagara, the train was three feet above the platform at the station but they had a hoist to get the wheelchairs down.
In Niagara, we used Central Taxis, but they only had one seat apart from the wheelchair seat. They only had one accessible taxi in their fleet but they were planning on getting another one. Apart from the roads down by the Falls, the roads and pavements are very poor in Niagara, so walking is not really feasible. Also the hills are very steep.
Not to worry.
We did Amtrak again to get to Toronto from Niagara. Toronto is a good city to walk round, which was just as well as the only accessible transport we found was the ferries to the islands.
From Toronto, we headed for Chicago, which again was quite good to walk round; and from Chicago, we took our last train – the Amtrak sleeper – to Seattle. The facilities were ok; disabled compartments with 2 sleeping beds that folded and just enough room. However, the toilet was in one corner of the compartment, so when going to the toilet all the privacy was provided by a curtain over that end of the compartment. Meals were brought to the compartment. And there was only one disabled compartment on each car, and almost everything apart from your compartment was upstairs.
Seattle was very exciting, because it was here that we finally took delivery of our bus! We bought the bus online before we left Scotland.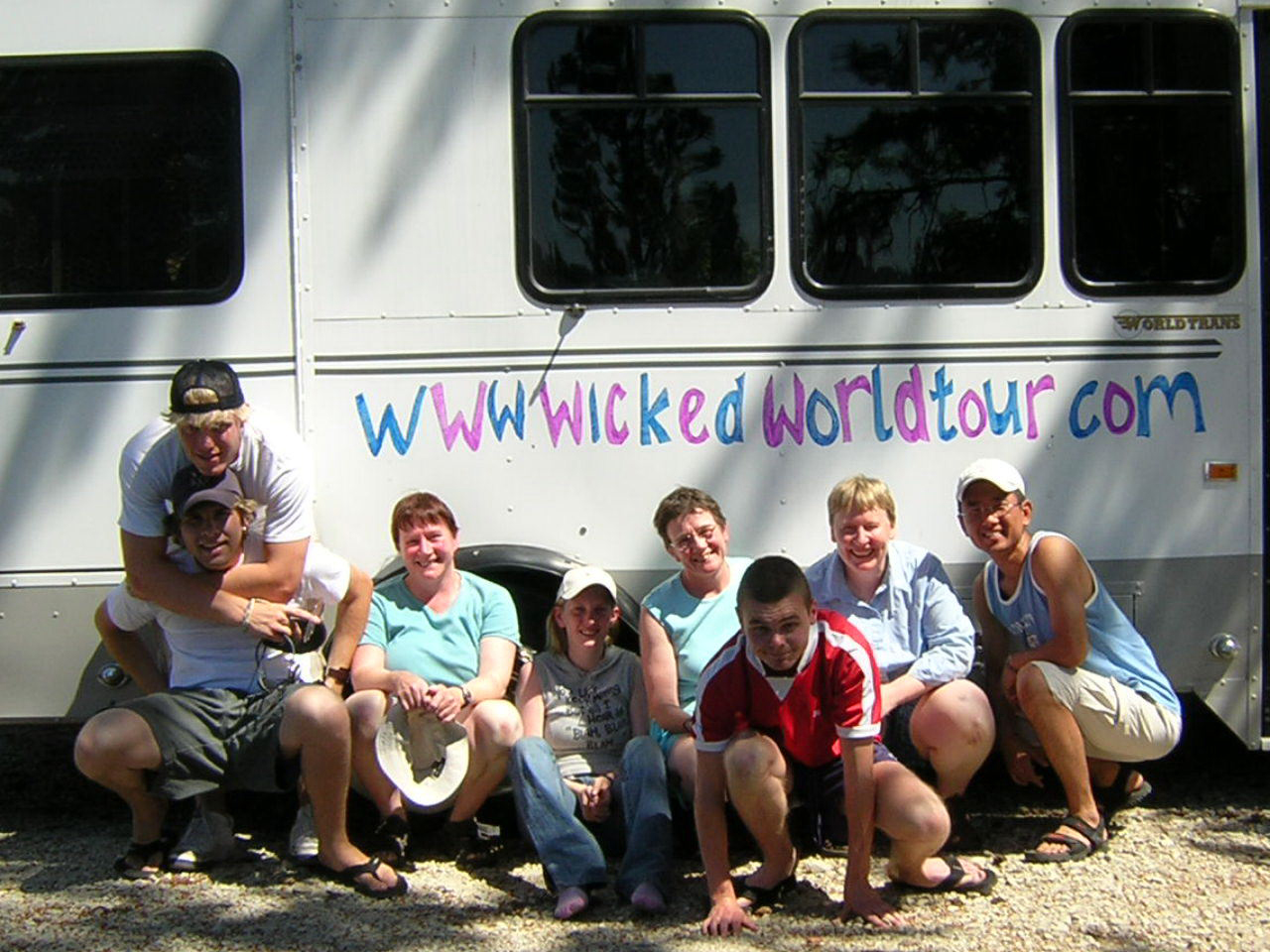 On our way to Milo McIver State Park we drove through the Columbia River Gorge. We only realised how efficient our air conditioning in the bus was when we stepped out for a 'comfort stop'. It was almost unbearable and we were glad to find the campsite had plenty of shady nooks. It was lovely to camp for four nights. We had electric hook-up and a water tap, and as well as our gas stove we lit a fire at night just for the joy of it. We took up 2 pitches with our huge tent, wee purple tent and our white 'shelter tent' which was really handy as although there was a good toilet and shower block the accessible loo was out of order.
After a couple of nights at Gold Hill, a rather run down old mining town (rain drizzled on us most of the time) we decided to head to the coast to experience the Californian Redwoods and camped in another KOA campsite. This was set amongst glorious trees, which did the heart good. We managed to go on a gondola ride for a bird's eye view of the trees. Interestingly the gondola was accessible but the wee shuttle car up to it wasn't. Fortunately the driver was helpful and patient and after several trips with boys lifted on to seats and jammed between carers and wheelchairs tied on to the back of the shuttle we did it! There seems to be a theme here: We did it!
On to Mt. Shasta which we could see for miles as we drove towards it. The campsite really afforded picture postcard views of the snow-capped volcanic mountain and we were at 4000 feet so the temperature dropped quite dramatically at night. People had to dig out their fleeces and were glad to be squashed together in the tents. There was a road up to about 8000 feet so we all went up to enjoy the rolling view of the Cascades and some of the group went up to the snowline to fetch some snow.
"Despite managing a heroic departure at 10.30 from Shasta it was dark by the time we reached Yosemite. I nearly fainted at the park gates when the ranger read the side of the bus and wanted to charge us the commercial vehicles' rate of $200 instead of $8 per person. Fortunately she relented and the campsite itself was only $54 for the three nights we stayed there. We camped in the Lower Valley campsite which had started on a programme to improve disabled access. It was incredible to be surrounded by such beauty and I would love to go back when there is a chance that it might be less busy; but I don't know if there is ever a quiet season there. We were thrilled to have to pack away all foodstuffs in bear-proof lockers and were even more thrilled when we saw some bears later in the week, fortunately not at our lockers. Some people used the accessible shuttle bus in the park and we were able to walk or drive to some incredible viewpoints. Often deer would walk in front of us and there were squirrels that watched for any crumbs from the table. The moon was full at this time and after watching a glorious sunset we could then watch a fabulous moonrise lighting up the steep sides around us! OK, I LOVED IT!"
– Margaret
Let's go to San Francisco: if you are brave enough for the eight lanes in over the bridge! We were in a hostel and a hotel room here, but fortunately they were both in the same street. Once I had parked the bus I knew there was no way I could face driving it again until we were leaving. The public transport was very accessible, apart from the classic trolley buses that you all know from the movies, and we made good use of them to explore this amazing city. We were right on the edge of an area called the Tenderloin and were shocked by the number of people who wandered with what appeared to be all their belongings in shopping trolleys. There seems to be a big homeless population and real estate prices were sky high. Chinatown was huge and colourful and fascinating, a ferry ride gave us a great view of the city and Alcatraz, and the Piers were just buzzing with buskers… and great sea food. Sheila and I also went on a wonderful guided tour of the Castro with Trevor Hailey and found ourselves in a land of rainbow flags.
It was really hard to leave Jean behind as we drove south and she prepared for the flight home. Saw some of the beautiful Californian coast but eventually opted for the faster road inland .We overnighted at Atascadera and then drove on to Los Angeles. I'm a bit prejudiced about LA as we had so many problems here, but one highlight was visiting the home of Tom Harris (remember he met us at Seattle with the minibus that he had driven from LA?) We had a lovely barbecue with his wife Laurie and his children Alena and Tommy. Another highlight was Korean food from a take-away near the hotel we stayed in, and those who visited Universal Studios had a brilliant time. Sheila and Patrick managed a brief visit to the Museum of Tolerance and would have liked to have longer there. Unfortunately Patrick's wheelchair broke on the opposite side and the bus also had to be repaired here. The freeways were constantly busy and parking in the area where we were staying was a nightmare. We also had to make a difficult decision to ask one volunteer to go home and one of the volunteers, Katie, who was arriving at Los Angeles was held up by immigration at Atlanta and missed her connection. Eventually she got through and after spending an extra day in LA we were able to set out for Las Vegas.
It sounded so easy that we expected to be in Las Vegas by early afternoon and our 2 American volunteers were going to have a farewell meal with Patrick and Ali before meeting up with their own friends for the evening. Already this was a day shorter than they had hoped to spend with their friends before flying out on the 21st to Spokane to start college again on the 24th August. Flash floods had blocked the interstate unexpectedly and we were sent on a 400 mile detour, along with every other driver in the world (or so it seemed). It was only the good nature of these volunteers that it made it bearable, and when we arrived at 8.30pm they set off to 'Treasure Island' for their meal while we booked in to the Plaza Hotel and Casino. The farewells that night were awful but we have definitely enriched each others lives, and had a blast doing it. The next few days were spent surrounded by these enormous creations of wild imaginations: casinos with themes to entice more people into them than ever before: New York skylines, The Eiffel Tower, The Sphinx and Pyramids, The Grand Canal and Gondoliers and fabulous dancing water displays. From our hotel on the old 'Strip' we had great views across the desert to the mountains in the distance. We were able to enjoy the rooftop swimming pool and Sheila and I enjoyed the Star Trek experience in one hotel. This unfortunately was not accessible but many of the hotels were and we certainly saw many people in wheelchairs in the casinos.
Our next big adventure was to visit the Grand Canyon. The Grand Canyon National Park is set up to try to protect the environment at this amazing place. We were allowed to drive along the south rim of the canyon because we had the wheelchair accessible bus. Normally visitors park at the visitors' centre and use the shuttle service that drops them off at various fantastic viewpoints. I can only say that it is awe-inspiring and one more place that I would love to go for longer. Our party also took a helicopter ride into the canyon in the early evening light and thought this was tremendous. Poppa had given the boys some spending money for a special treat …and it was special. (I've just heard that the Pope has a new lift designed to get into the helicopter he is using for trips: we could have used one, but once again willing helpers made this adventure possible!)
We camped about 50 miles away at Williams. The KOA campsites suited us quite well because we generally had enough space for all our tents and there was electricity to recharge the hoist. Usually, like at this one, they had a swimming pool, and they had a well-stocked shop. The day after our trip to the Grand Canyon we swam in the pool and then an almighty thunderstorm started. The campsite became a quagmire of reddish mud that stuck to the wheels of the wheelchairs and Hun did a great job of digging a trench round the tent. We decided to explore Williams which is on the old Route 66 rather than hang about in the mud. Apart from the Elvis and Coca cola memorabilia, there was a real feeling of being in 'Cowboys and Indians' country. That night the local dramatic group put on a shoot out on the main street and we joined the small group of spectators. Fortunately it was only blanks they were using.
Next morning was spent trying to get the wheelchair repaired again. We met some of the local characters and ended up with a splint held in place with hose clips, hmmm. Fortunately it had stopped raining and we were able to pack up the tent, for the last time, slightly muddy but at least dried out. We decided to have a shorter drive today and rested in Needles en route for Los Angeles. We were in the middle of a desert area and it was extremely hot, but the motel we stayed at was cool and clean. Like many rooms we had stayed in there was no circulating space and it was like one of those games of rubik cube: to get to the toilet move one chair outside, move hoist, move other chair etc. I think some people watch 'Pretty Woman' on the tv. at least twice, and it really was a rest place before we hit the dreaded LA again.
Back in Los Angeles we arranged for Tom Harris to try to sell on our equipment, a huge thanks to him, and finally parted with the minibus at LAX airport where we boarded our plane for Cancun in Mexico. This was to be our recuperative week in the sun at the Caribbean, and for the most part that's exactly what it turned out to be. Unfortunately the hostel that we had booked because it was advertised as being 'wheelchair friendly' was decidedly inaccessible. We wondered if the phrase meant that they waved or smiled at wheelchair users..but we certainly couldn't stay there! Our taxi driver, Juan, spent 2 hours trying to find us somewhere to stay, and he was typical of the other taxi drivers we met during the week. Although they had no wheelchair accessible vehicles they were kind and helpful as we lifted, pulled and bundled Patrick and Ali in and out. One of them took us to a welder later in the week when the chair broke for the fourth time: beginning to think it should be renamed the Wicked Weld Tour. Our little hotel, Dos Playas, was almost perfect for us (the manager didn't hesitate when we asked to have the toilet door removed so that the wheelchair could fit in). The food was great in the wee poolside bar/restaurant, staff were friendly, and the access to the creamy white beach with turquoise water was just a few yards from the pool. We had read a guy's account of using an airbed for transfer from wheelchair to sea and we decided to try this out: fantastic! Fortunately it was not a very long beach and we were able to help both Patrick and Ali into the pool or the sea, and sometimes both, most days. It really was like the holiday programmes or Bounty adverts show and we kept pinching ourselves to check we were there. We had discovered earlier on the trip that Patrick and Ali could both swim wearing a mask and snorkel, since these removed the need to lift the head to breathe, and Ali spent about 15 minutes one day enjoying watching the underwater world as he swam about.
If any of our readers had asked Ali before the trip what was his biggest desire they would probably have heard 'Eating Mexican food, in Mexico, with a mariachi band in the background'. To our overwhelming delight one night as we were enjoying a meal out a band came in and circled the table, playing and singing away. It was brilliant. The other dream to come true while we were in Mexico was a visit to the aquarium where we were bathing with the dolphin Balaam and were all kissed by this wonderful creature.
All too soon another reality crept in and our departure became a bit stressful. Air France decided to change our travel arrangements. Two days before our departure they asked if one of the wheelchair passengers could travel a day later. Apparently their partners for the leg of the journey from Paris- Edinburgh, Cityjet, had advised them that they only take one wheelchair passenger on their flights: discriminatory or what? Many, many calls followed and eventually we managed to travel on the same day but on separate flights.